Metal Stamping Dies
Anderdon Tool builds metal stamping dies for automotive parts including underbody frame, reinforcements, and structural components. We have experience building stamping dies for forming cold roll steels, high strength alloys, hot rolled steels, aluminum, stainless steel, and dual phase materials. We routinely build dies to stamp material thicknesses from 0.020" (0.5mm) to 0.250 inches (6.4 mm) steel.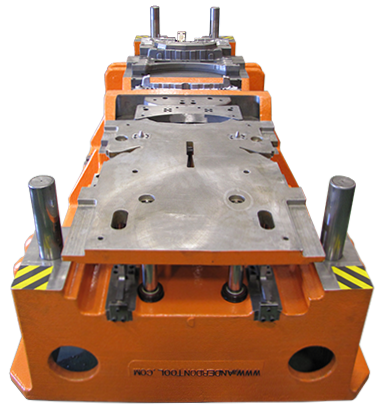 We build line dies, transfer dies, progressive dies, and stage tools for medium to highly complex parts. All stamping dies are built to your die specifications. Cast steel dies, cast iron dies, and steel plate build-up dies can be built depending on your component part geometry, volume, and tolerance; press size and tonnage; and automation requirements. Die repair and tool maintenance is also available.
Line Dies
Anderdon Tool produces line dies for structural components. Line dies can be multiple station or single hit dies. They can be designed for hand transfer or mechanical transfer between dies.
Transfer Dies (mechanical transfer dies)
Anderdon Tool builds traditional mechanical transfer dies and walking beam type transfer dies. Die sets are made from cast steel or built up from steel plate. Anderdon Tool will work with your transfer automation supplier or design for your existing transfer systems.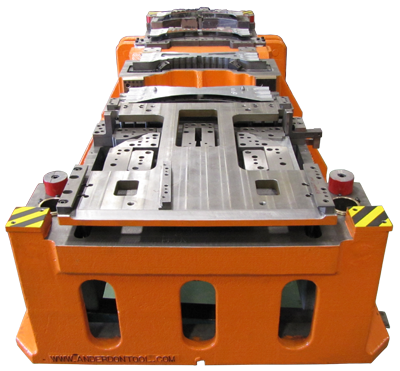 Progressive Dies
Anderdon Tool builds simple and complex progressive dies. We produce progressive dies for structural under body components, class B components, and complex under hood components. We build reduction dies for parts requiring a heavy boss for tapped holes. We routinely build progressive dies with 10 to 30 stages.
Prototype Parts and Tooling
Anderdon Tool has the capability to produce experimental and prototype parts. We can produce low volume (100pcs) and limited volume (100-500pcs) quantities. We have in-house facilities for 5-axis laser cutting, metal bending, stamping, and welding of prototype parts. Prototypes of varying material types can also be machined.
Project Management
Your Anderdon Tool project manager is responsible for managing the build progress of your stamping die from the design stage through to start-up. Your project manager will actively communicate the progress of the die build and keep track of outstanding issues. We will keep your die build on schedule and you informed.
Please contact Anderdon Tool for your tooling requirements.