Gauges & Fixtures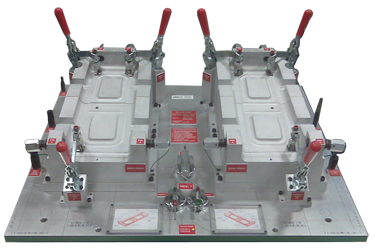 Anderdon Tool supplies high quality checking fixtures through its sister company ComPuTool Gauge & Fixture.
ComPuTool Gauge & Fixture Inc. strives for quick turnaround of quotes, design, and building of fixtures. You can be assured of excellent communications throughout the entire fixture building process.
For more information on ComPuTool, visit their website at www.computoolgauge.com
Types of Fixtures
CMM holding fixtures
SPC fixtures
Attribute check fixtures
Cooling fixtures
Welding fixtures
Design
Specializing in quick concepts
Full-detail designs upon request
3-D surfaced part modeling
Reverse engineering product development
Fixtures designed and built to customer requirements
ComPuTool Gauge & Fixture Inc. is registered to ISO 9001:2008.
ComPuTool and Anderdon Tool share project managers and other resources.
Contact us for more detail or visit the ComPuTool website at www.computoolgauge.com